History
Frost Matts Mattsson grew up in the village of Östnor, just outside Mora, in the mid 19th Century. At that time, there was a long tradition of crafts, above all the casting of brass. Items produced included buckles, mountings, Mora Clocks and sewing machines.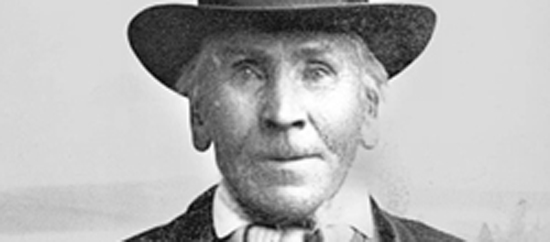 Frost Matts
Frost Matts became a founder (founding brass) and, in 1865, registered a small foundry where he principally worked on clock wheels for Mora Clocks. "The people of Mora stand out for their skillfulness in various types of handicraft. They sell these products themselves all over the country, and as a result, are often quite widely travelled." (Arosenius, 1862). Frost Matts Mattsson grew up in the village of Östnor, outside Mora, central Sweden, where proto-industrialization (cottage industry) was emerging with great vitality in the mid-19th century. In this location, people alternated between agricultural work and a variety of crafts, manufacturing products sold way beyond provincial boundaries. The population of Östnor specialized in brass castings.
The Mora clock
Products manufactured since the mid-18th century included Mora clocks. Production was organized as a cottage industry, with work shared between farms. At their peak, agricultural laborers in Östnor produced some 1,500 timepieces each year. Frost Matts was one of several founders and produced components for movements.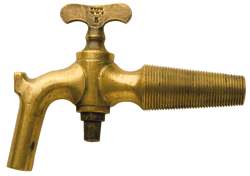 The first faucets
Mora Clock found fell into crisis due to growing competition, and new sources of income were needed.
In 1876, Frost Matts made his first faucet, a brass faucet for a hand basin. Being industrious, he was certain to involve other villagers in his new project. The operations grew, and when Frost Matts died in 1914, his legacy to his sons, Karl and Anders, was a small factory, FM Mattsson AB, with around 20 employees.
Frost Matts registered his first sole proprietorship in a shed on the outskirts of Östnor village in 1865. The business consisted of his brass foundry for manufacturing simple brass products such as bells and harness fittings etc. Mora Mekaniska Fabriks AB started up in Östnor in the same year. The original idea was to attain more industrialized clock manufacture, although this never became a reality. The formerly highly successful clock manufacturing operation fell into crisis, mainly due to enormous foreign competition. Instead, Mora Mekaniska became Sweden's first sewing machine factory. To address the foreign competition, mechanization and standardization of production became imperative. It was necessary to produce sewing machines with precision and attention to detail, and the people of Östnor attempted to satisfy these standards through increasingly mechanized production. But the combination of high initial costs and excessive competition caused the company to go bankrupt in 1877.
By this time, many of the sewing machine factory workers had already transferred to Frost Matts. Frost Matts Mattsson produced his first faucet late one winter night in 1876. He then started to mass-produce his brass hand basin faucet with the assistance of his neighbors. The 1880s and 1890s saw expansion at the FM Mattsson workshop and at this time, Frost Matts purchased much of the sewing machine factory's machinery. Unlike the management at Mora Mekaniska, Frost Matts was able to keep benefitting from centuries of proto-industrial craft tradition. Way into the 20th century, Östnor's farm workers were still working from home for the company, while for a modest sum, Frost Matts had secured access to highly developed machinery and a well-trained workforce.
Frost Matts died in 1914, deeply missed by villagers, whom he had provided with work for a lengthy period.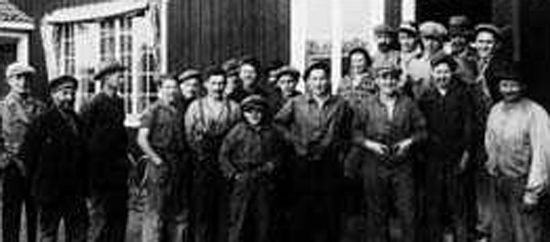 FM Mattsson
Frost Matts' sons Anders & Karl took over their fathers' factory, which was called FM Mattsson. At that time, it had some 20 employees and a bright future. In the late 1920s, the plant was hit by a year-long strike, which resulted in Frost Karl and his wife Anna Maria leaving FM Mattsson to start a new business, Mora Armatur, in 1927. Twelve people followed them to the new company. Both faucet producers progressed in parallel, urging each other on in beneficial competition, which helped both brands succeed over the years. FM Mattsson developed the first compact faucet in Sweden in 1962, with new innovative functionality and dimensions that are still the standard for all visible installations. In 1981, FM Mattsson presented Sweden's first faucet with ceramic seals.
Mora Armatur
Mora Armatur represents novel environmental thinking, and a focus on saving energy and water, which inspired many other sector players. The ESS product range, a mixer system that reduces water consumption by as much as 40 percent, was launched in the 1990s. In the 1970s, Mora Armatur also became Sweden's first manufacturer to offer single-lever and thermostat mixers, successes that resulted in FM Mattsson and Mora Armatur completely dominating the Swedish market for sanitary fittings. The companies reunited in 2003 when their merger became a reality. At that time the group had four companies in Sweden consisting of parent company Ostnor AB and the subsidiaries Mora Armatur AB, FM Mattsson AB and Ostnor Production AB. In 2007, these four companies were merged into one, Ostnor AB.
The name "Ostnor" is a homage to the village of Östnor where the plants are still located, and where everything started all those years ago.